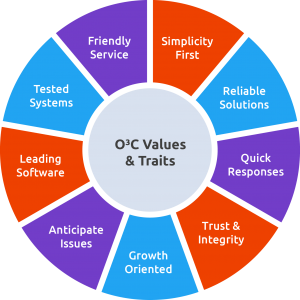 How often are you and your employees trying to fix IT issues within your business?  The truth is that every business has technical problems, but smart businesses report those problems to their IT experts.  With today's complications with tech, it's more important than ever to have reliable IT support.
O3C is dedicated to improving your business processes, fixing existing problems, and preventing future problems with IT solutions.  We can provide your company with business computer backup, disaster recovery, powerful Windows servers, VoIP phone service, and more.  All of our solutions are specifically designed to be cost-effective and improve workforce productivity.  We're also available 6 days a week to provide your business with reliable IT Support.  If you have a computer or server problem, we'll be available to solve it.
Remote IT Support
Get Consistent Support from IT Experts.  Connect, Troubleshoot, & Resolve issues Quickly & Efficiently. We offer real-time solutions to resolve IT issues immediately by directly connecting to your computer or server.  Using remote desktop protocol (RDP), we are able to offer very competitive support services by eliminating the need to resolve issues on-site.
With our Remote Support solutions, your staff will undoubtedly spend more time focusing on internal and customer expectations, rather than trying to find workarounds for IT issues.  As long as your computer or server is powered on, we can troubleshoot and fix it, saving you time and money.
On-Site IT Services
Not all IT problems can be solved remotely, which is why we also provide on-site IT services & solutions.  If you're looking to set up a new internal server, extend your wifi coverage, or implement a backup and data protection environment, we'll get you taken care of.  We'll always look for the most efficient and cost-effective solution.  At the end of our visit, we'll give you a report on what part of your IT infrastructure could be improved and whether or not something can be changed to save you money.
Our main goal with each visit is to evaluate your current technical environment, fix any issues that you may have, and follow up with suggestions that could improve your environment.
IT innovation & support to streamline your business processes
Finding reliable IT support is almost a job within itself.  There are many companies out there that claim to be IT professionals, but troubles usually arise as soon as you start communicating with their agents.  Costs start to grow for seemingly small fixes and suddenly they aren't there when you need them.
We're here to set the new standard of IT support at a reasonable price, and we'll be as proactive as you'd like us to be. Offering new and innovative ways of delivering tech support and solutions throughout our entire relationship.  We understand that quality tech support requires a very broad knowledge of IT, including software, hardware, operating systems, and more.  We have that knowledge, and use it every day.
Whether your sales reps are on the road or in their office, our IT support can help you with ease.  Our remote desktop technology knows no boundaries, providing a quick and easy connection allowing our support staff to connect to your device and solve problems within minutes.
You've heard it a million times – time is money.  Which is why our preferred method of troubleshooting includes real-time, instant support.
We don't waste time by driving to your location for troubleshooting small issues. The majority of problems can be resolved remotely and efficiently.